Ellerman Lines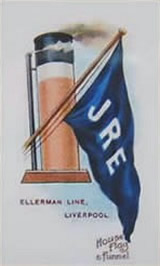 John Reeves Ellerman was born in Hull, England on 15th May 1862, the son of a Hamburg merchant. He was to become one of the most successful British shipping financiers of his time. He founded the Ellerman Line and expanded it to become one of the biggest and most recognisable shipping lines of the British Merchant Navy. He died on 16th July 1933 leaving a personal fortune of around £40 million.
He was succeeded by his son, who also shared his name, he was a scholarly and reclusive man. By the time the second John Reeves Ellerman died in 1973 the fleet consisted of less than forty ships compared with over one hundred in its prime.
A high price was paid by the Ellerman group during both World Wars. Here is a list of Ellerman Line War Losses for WWII.
Today, the Ellerman Line, like so many of our great shipping lines, has been consigned into history. Below is an account from Glasgow University Archive Services reproduced with full permission. Visit their site: Glasgow Archives
In 1892 John Reeves Ellerman, Christopher Furness and Henry O'Hagan incorporated Frederick Leyland and Co Ltd, shipowners, Liverpool, England, with a capital of £800,000 to buy a fleet of 22 vessels from the executors of Frederick Leyland, formerly head of Frederick Leyland and Co. Initially, John Reeves Ellerman was the managing director and Christopher Furness was the chairman of the new company, but by 1893 John Reeves Ellerman had taken over the position of chairman. In 1900, the company acquired a further 20 ships from the West India and Pacific SS Co Ltd and was reorganised as Frederick Leyland (1900) Ltd with a capital of £2,800,000. A year later, however, J Pierpoint Morgan of the International Marine Mercantile Company, USA, purchased the company, although John Reeves Ellerman remained the chairman. At the time of this deal, John Reeves Ellerman also retained ownership of around 20 ships and acquired the Papayanni Steamship Co Ltd, shipowners, Liverpool, England, along with 8 of their ships. Ellerman then formed the London, Liverpool and Ocean Shipping Company Ltd. This company's head office was located in Moorgate, London, and its directors were John Reeves Ellerman (chairman), M W Mattinson and Val Prinsep.
In 1901, the London, Liverpool and Ocean Shipping Company Ltd acquired 50 percent of George Smith and Sons' City Line Ltd, Glasgow, and 50 percent of the Hall Line Ltd and increased its capital, changing its name to Ellerman Lines Ltd at the beginning of 1902 with head offices in Liverpool and Glasgow and another office in London.
In 1908, the company acquired Bucknall Steamship Lines Ltd who operated services between the United Kingdom, South Africa, the near East and North America. The acquisitions of these companies gave the Ellerman group of companies a dominating position in the Mediterranean and Near East. By 1914, the Ellerman group consisted of the following companies: Ellerman City Line Ltd, Ellerman and Bucknall (Steamships) Co Ltd, Ellerman and Papayanni Lines Ltd, and Hall Line Ltd.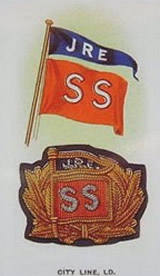 The outbreak of the 1914-1918 World War saw the Government requisition a large number of the Ellerman fleet for use as troop carriers, munitions carriers, or for conversion into war ships. The Ellerman group of companies continued to operate a skeletal service with the ships it had left. After the war, the immediate aim of the company was to secure sufficient tonnage to restore a level of service comparable to the company's old standards which lead to the purchase of several German liners as well as new tonnage being ordered. The passenger services to Egypt, India, Sri Lanka, South Africa and the Far East were soon re-established and the network of cargo services restored.
By 1939, the Ellerman group of companies owned 105 ships capable of carrying a combined 920,000 tons making Ellerman's one of the biggest fleets in the world. They had 4 classes of ship: cargo ships with space for a considerable number of passengers; cargo ships with limited passenger accommodation; pure cargo ships; and short sea traders for the Mediterranean and Iberian services.
Again, many ships were requisitioned for Government service during the 1939-1945 World War while a number of ships were retained to continue as cargo vessels bringing supplies to the United Kingdom and government departments. Forty-one ships were sunk by submarines, seven by air attacks, three by mines and one by surface raider. In total, 60 ships of the Ellerman Group were lost out of its fleet of 105.
Following the war, a new building programme was undertaken, with the CITY OF BRISTOL being the first new ship. A new policy was implemented of building fast steam cargo liners that held no more than 12 passengers who travelled in style and comfort with similar standards for crew accommodation. The company concentrated on re-establishing their world wide trade routes and purchased from the Government 12 cargo ships which they had managed during the war. By 1952, the company had 25 of these new style 12-passenger ships and had restored the bulk of their pre-war services with a total of 45 new vessels and a further 14 for the Portuguese trade and Mediterranean services. By 1953, the fleet had a total of 94 ships with a carry capacity of 900,000 tons.
In 2002, Ellerman Lines Ltd was a dormant company.