The Great War
2018 marked the 100th anniversary of the end of the Great War. We remember all those who never made it home and those whose lives were never the same again. Lest we forget.
The Ellerman Line's ss CITY OF CAIRO served in two world wars. Towards the end of the Great War she was used as a troopship and was involved in transporting Canadians, Australian and New Zealand troops to and from the UK.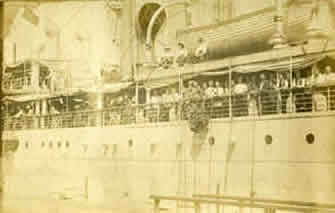 I am very grateful to Bob Richardson from Ontario, Canada who has researched and compiled the "Tragedy of the ss CITY OF CAIRO" a record of the 34 Canadian soldiers who died due to the Spanish Flu epidemic whilst being transported to England only two months before the Armistice.
THE TRAGEDY OF THE S.S. CITY OF CAIRO
I first became aware of the ship S.S. City of Cairo when recently investigating the 19 names on the Cenotaph Memorial in the small village of Omemee, Ontario (1200 population). Omemee has recently gained some notoriety as the original home of Canada's second last remaining soldier, Pte. Lloyd Clemett, whose wooden frame home at #10 King Street is still standing. I was curious about Pte. Alphonse Gosselin #3056616 because as a conscript to the M.S.A. 1917, his name was listed on the Halifax Memorial and because he had died only 26 days after being drafted in Lindsay, Ont. On further investigation of his death date, I found a number of other men that died on the same day or close to it, also listed on the Halifax Memorial.
Thinking that the Memorial was used only for sailors that died at sea, I was determined to find the source of the deaths of these soldiers. I was able to locate a reference to the loss of soldiers on that date in History of the Canadian Forces, 1914-1919 Medical Services, Sir Andrew Macphail. Here MacPhail states in considerable detail that his time period was the peak of the worldwide Spanish Influenza epidemic. I was to learn that on the three troops ships that had departed Canada in September, 1918, a total of 99 deaths occurred at sea and many more on landing in England. These ships were the S.S. City of Cairo, the S.S. Victoria and the S.S. Hunstead. My man Pte Gosselin was 21 years old, single. A farm labourer that had possibly been born in Quebec but working in the rural community of Downeyville, near Omemee. He was included in Draft #175 from Kingston, Ont of the 1st Depot Battalion, Eastern Ontario Regiment of 1 officer and 50 soldiers aboard the S.S. City of Cairo. Three of his mates from this unit also succumbed to the flu in transit.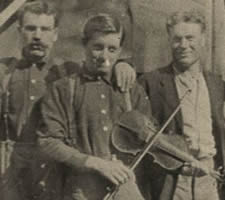 The S.S. City of Cairo departed the Port of Montreal on September 26, 1918 with 1075 passengers the majority of which (1057) were Canadian reinforcement soldiers and included six nursing sisters and a number of medical doctors. "Nearly all on board were sick, and there were 34 deaths at sea. On arrival 244 cases were transferred to hospital, of which 114 were on stretchers". The Hunstead and the Victoria had very similar numbers. A brief stop in the Port of Quebec City on September 28, 1918. She landed in England at the Port of Devonport (Plymouth) on October 11, 1918.
John Angus McEachern (pictured above right) was drafted with the 1st (Res) Bn. British Columbia Regiment. John Angus sadly died of bronco-pneumonia in Devonport hospital at 10:30am on 13 October 1918, two days after arriving in England - a victim of the Spanish Flu pandemic which was rife among the troops on board the ship. He lies at peace now remembered in perpetuity by the Commonwealth War Graves Commission (CWGC) at Plymouth (Efford) Cemetery.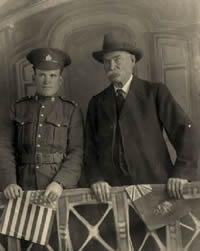 Among the 34 Canadians who died aboard the ship was Sapper Edward James Collins - 2nd Canadian Railway Troops, Niagara, ON - (pictured left along with his father, Matthew). Edward died of acute bronco-pneumonia on 8 October 1918, three days before the ship docked in Plymouth UK, another victim of the Spanish Flu epidemic. He is remembered in perpetuity by the CWGC at the Halifax Memorial, Nova Scotia. His Silver Cross and plaque are now archived at the Saskatchewan Military Museum.
Noteworthy is that the S.S. City of Cairo survived World War I intact however was lost when tragically sunk by a German U-Boat U-68 on November 6, 1942 in the South Atlantic Ocean with great loss of life.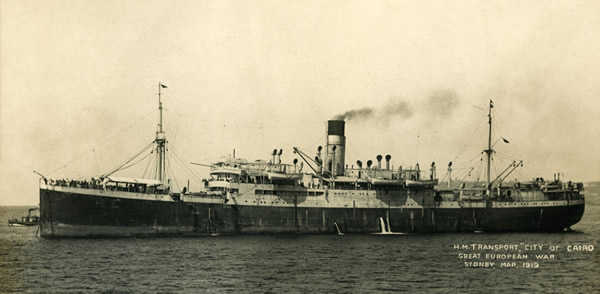 Canadian Soldiers Lost At Sea on the S.S. City of Cairo, 1918
Rank
Name
Service Number
Date of Death
1st Depot Battalion Western Ontario Regiment, London, ON
Pte
Edwin Edward Fink
#3137528
09/10/1918
Pte
Charles Harris Barnes
#2356758
10/10/1918
Pte
Patrick Francis Crowley
#3135547
10/10/1918
Pte
Archibald Lorne Legg
#3133288
03/10/1918
Pte
Robert Humphrey
#3136104
10/10/1918
Pte
J. Latimer
#3136689
08/10/1918
Pte
H.B. Tolton
#2356843
08/10/1918
Pte
P.H. Wiper
#3138752
07/10/1918
2nd Canadian Railway Troops, Niagara, ON:
Sapper
Freeman Atkinson
#4061741
07/10/1918
Sapper
J. Bizeau
#4062821
07/10/1918
Sapper
Edward James Collins
#259420
08/10/1918
Sapper
Douglas H. Garling
#2501136
08/10/1918
Sapper
G.G. Griffiths
#3259532
07/10/1918
Sapper
B.S. Johnson
#2204932
07/10/1918
Sapper
P. Laviola
#2501123
07/10/1918
Sapper
Gordon C.O. McCarty
#2499480
06/10/1918
#3 & #4 Canadian Engineers, Training Depot, Brockville, ON:
Sapper
F. Des Rosiers
#3327434
08/10/1918
Sapper
A. Kitchin
#2012054
08/10/1918
Sapper
H. Olmstead
#3355148
08/10/1918
Sapper
H. Morash
#3039378
09/10/1918
Sapper
Harold C. Small
#335410
10/10/1918
Sapper
Luther Ullman
#3311860
10/10/1918
Sapper
John Wesley Walker
#2011943
09/10/1918
Pte.
E. Carroll
#2140763
10/10/1918
Pte.
J.H. Cross
#2023048
10/10/1918
Pte.
J. Goffney
#2020681
10/10/1918
Pte.
Eddie Thomas Milton
#2140598
09/10/1918
Pte.
W. Roberts
#2140825
09/10/1918
Canadian Army Service Corps, Petawawa, ON:
Pte.
Lorne John Birmingham
#2688669
09/10/1918
Pte.
Sidney Alexander White
#2688520
06/10/1918
1st Depot Battalion Eastern Ontario Regiment, Kingston,ON:
Pte.
Alphonse Gosselin
#3056618
08/10/1918
Pte.
Alfred Duguay
#3328171
08/10/1918
Pte.
Emile Auger
#3321358
07/10/1918
Pte.
B.P. Connelly
#3328058
08/10/1918
34 soldiers total
All listed above can be found on the Halifax Memorial, Halifax, Nova Scotia. MAY THEY REST IN PEACE!
Compiled by: Bob Richardson Brampton, Ontario, Canada November, 2008