Wreck Located
Silver Bullion Recovered
The wreck of CITY OF CAIRO, torpedoed on 6th November 1942, has been found at a depth of 5150m. Under contract to the UK Ministry of Transport, Deep Ocean Search (DOS) completed an extremely difficult and challenging dive from the S/V JOHN LETHBRIDGE and recovered several tens of tons of silver coins from a depth of 5150m - a world depth record.
I am pleased to be able to add the following photos. All are copyright © and courtesy of Deep Ocean Search (DOS) and I would particularly like to thank John Kingsford and team for allowing me to put them on the site.
The last resting place of this fine ship which saw service in both the World Wars is now known. We remember all those who sailed in her especially those who never made it home, lest we forget.
DOS left a plaque commemorating their finding and visiting the ship before they left the site finally on the 25th September 2013.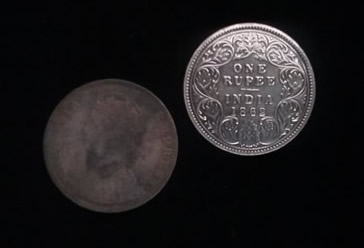 These two silver rupees were recovered in 2013 from the consignment of 2182 boxes of silver bullion totaling 122 tons embarked on the CITY OF CAIRO prior to sailing Bombay 2nd October 1942. The coins, now in my possession, give me a link back to 1942, the ship and my father Malcolm (Calum) MacLean a seaman who served on the ship at the time. The coin on the right has been cleaned up, the coin on the left is as discovered.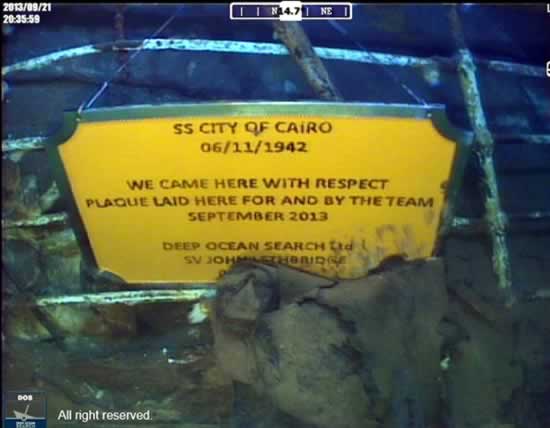 Hover over the photos below to enlarge them. All photos are copyright © and courtesy of Deep Ocean Search. You can read more here: Deep Ocean Search
CITY OF CAIRO bow section, anti-mine A-frame visible

Tail section of 2nd torpedo

Recovered cargo - consignment of silver coins

Recovery of ship's valuable cargo

One Indian rupee dated 1901 - recovered cargo

Recovered cargo - consignment of silver coins
The London Mint Office - CITY
OF

CAIRO Commemorative Coinset

Salvage of silver rupees from the SS City of Cairo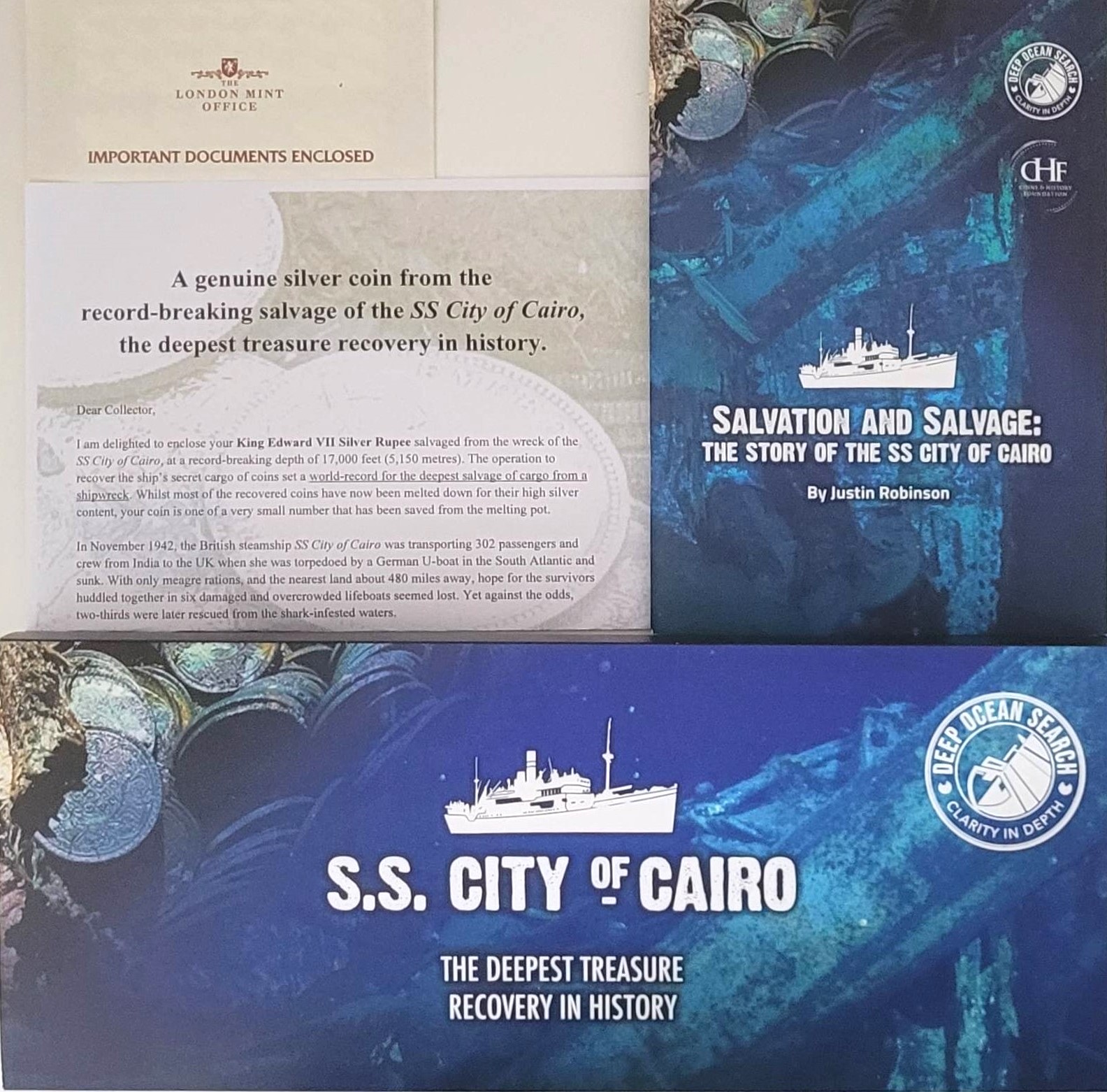 It was widely reported that all silver rupees salvaged from the ss City of Cairo had been melted down. However, that was not entirely accurate, for two reasons:
1. You may already be aware that a handful of coins were given to people directly associated with the story. This was done back in 2015 through the generosity of John Kingsford (Deep Ocean Search). In fact, some of you reading this might be lucky enough to already own one or two coins that escaped the melting pot.
2. I have recently been made aware The London Mint Office, part of the Samlerhuset Group, managed to save a small amount of coins (21,993 coins to be exact) from the world-record breaking salvage operation.
Other than the above, it is true to say that all other coins were consigned to the melting pot, never to be seen again.
The coins being made available by Samlerhuset come in their own presentation case along with a Certificate of Authenticity testifying to the coin's provenance as well as an accompanying book. The coins have been professionally conserved by industry experts bear the effigies of Victoria (Empress) Edward VII (King & Emperor), and George V (King Emperor).
The coins can be purchased as a single coin (obverse and reverse), of the king or queen of your choice or a double or as a three-coin set, although only finite numbers of the three-coin sets are available.
My primary reason for displaying this here, is that the coins are a direct link to the City of Cairo and all of those who were aboard at the time of the sinking, I have previously been contacted by families and other interested parties, who were looking to obtain at least one coin.
I would wish to ensure that the survivors and relatives should be among the first to know of their availability and have this once in a lifetime opportunity to obtain this important link to history and the ss City of Cairo. The Samlerhuset Group have also advised that they will donate to a Merchant Navy charity which I am happy to endorse.
Those who are interested in finding out more should contact Mike Hammond at the London Mint Office directly on 02081 879794 or mike.hammond@londonmintoffice.org