Photos (2)
I am pleased to be able to add the following photos. All are copyright © and courtesy of the Quantrill family and I would particularly like to thank Sarah Quantrill for allowing me to put them on the site.
If you have any photos that you would like to add please get in touch. I do have photos on all of the other pages on the site and I hope you find them of interest.
The following batch of photos were taken on the 20th June 1941 and depict the "crossing the line" ceremony while the ship was on passage from Durban (11/6) to Rangoon (2/7).
The ceremony, "Crossing the Line" is a seafarers tradition carried out on crossing the equator, on anyone in the ship's crew who has not previously done so.
Crossing The Line 20th June 1941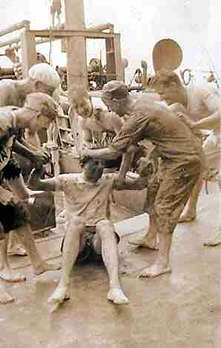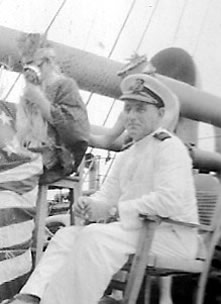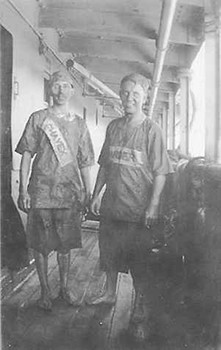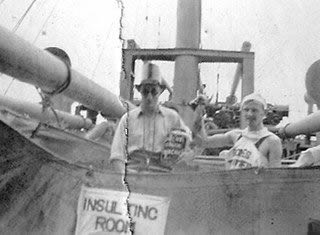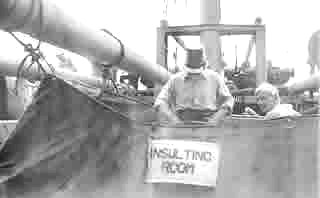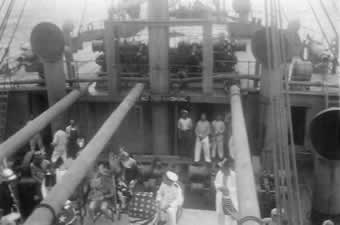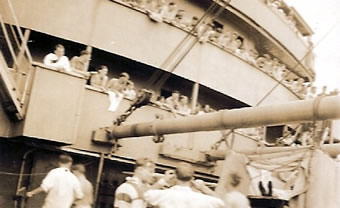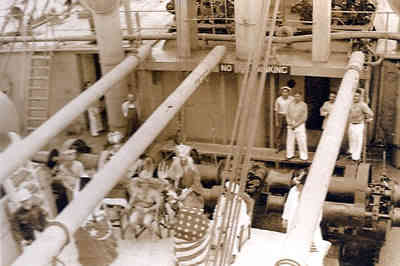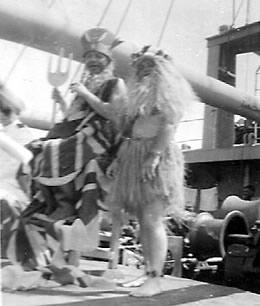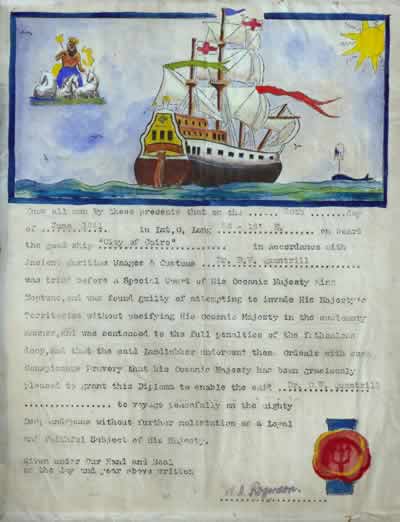 Know all men by these presents that on the 20th day of June 1941 in Lat, 0, Long 56°16E on board the good ship "CITY OF CAIRO" in accordance with Ancient Maritime Usages & Customs Dr. D.W. Quantrill was tried before a Special Court of his Oceanic Majesty King Neptune, and was found guilty of attempting to invade His Majesty's Territories without pacifying His Oceanic Majesty in the customary manner, and was sentenced to the full penalties of the fathomless deep, and that the said Landlubber underwent these Ordeals with such Conspicuous Bravery that His Oceanic Majesty has been graciously pleased to grant this Diploma to enable the said Dr. D.W. Quantrill to voyage peacefully on the mighty Deep and pass without further molestation as a Loyal and Faithfull Subject of His Majesty.
Given under Our Hand and Seal on the day above and year written
Signed W.A. Rogerson
St. Helena
I have added some postcards and photos of St Helena Island. The postcards were sent by Dr. Quantrill from St Helena in 1943. The photos were also taken around about this time. I am grateful to Sarah Quantrill and the Quantrill family for permission to add to this site.
I am also very grateful to [Peter] Ferdinand Dieckhaus, who was 2 years old when the ship was torpedoed, for contributing photos to this page.
Colour photos were supplied courtesy of Peter Batty - my thanks to him for allowing me to show on this site.