Lost at Sea - Europeans
In Memoriam
This In Memoriam page and Lost at Sea - Lascars detail those 107 passengers and crew of the SS City of Cairo who were lost either at the time of the sinking, died ashore or died at sea as a result of the journeys in open boats. This figure does not include Third Officer Whyte as he is recorded against the losses for ss CITY OF PRETORIA. He is, however, mentioned in those who died after rescue in the table below.
I have tried to ensure the accuracy of the dates of death of the passengers and crew-members recorded here. I have used many sources in my work. It is clear to me that some of the dates recorded in the Commonwealth War Graves Commission are incorrect. For example, most Lascar seamen's dates of death are given as the 6th November 1942, when, in fact, only one Lascar seaman from CITY OF CAIRO was killed on that day. Some Europeans dates are also obviously incorrect. I base this on factual information from survivors' reports, crew lists and from Ralph Barker's book: "Goodnight Sorry for Sinking you".
Herbert Shenton, Lawrence McGaffney, Sultan Khan and Ranoo Panna are all buried on the island of St Helena (St Paul's Cathedral Cemetary). SK Hassan SK Imam died in Cape Town, South Africa; all the others named below have no grave but the sea.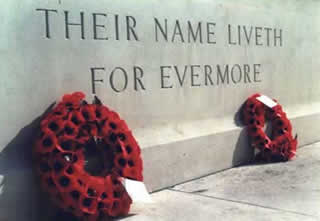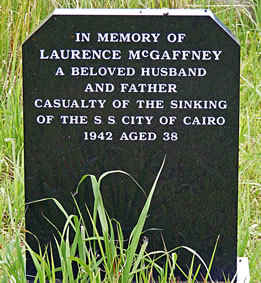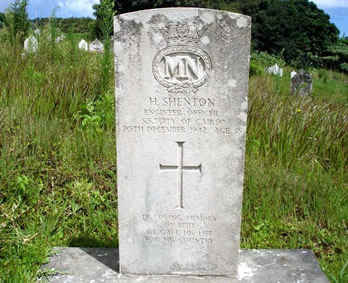 My thanks to Peter Batty and Billy McGee and the kind people of St Helena for the photos of the last resting place of Herbert Shenton and Lawrence McGaffney in St Helena.
I would like to express my sincere thanks to Merchant Navy veteran, Second Radio Officer, George V. Monk RIP for his help with the lists below. George was torpedoed while serving on the ss AUDITOR on 4th July 1941. Please see Acknowledgements page.
My thanks also to Mr Peter Bird who also kindly helped with the list.
You may note in the text below the term DBS which is an acronym for (Distressed British Seaman)
DBS = One who is left without a berth, ill or without funds in a foreign port.
Typically, in many cases, during wartime, a DBS would be a seaman who was travelling after having his ship torpedoed or lost through other forms of enemy action.
Lost during the sinking (6)
Name
Position
Fate
Harry Peever
Chief Radio Officer
Died 6 November 1942
Rev. Lauchlan McLean
Passenger
Died 6 November 1942
Wilfred B. Tingle
Passenger - Master, (B.I.Co)
Died 6 November 1942
Crawford Gordon
Passenger
Died 6 November 1942
Francis Marr
Passenger
Died 6 November 1942
Ghulam Rasul Nawabjan
Barman
Died 6 November 1942
Died after rescue (8)
Diana Jarman
Passenger
Died 17 December 1942 (ss RHAKOTIS)
James A. Whyte
Third Officer
Died 4 March 1943 (ss CITY

OF

PRETORIA)
Herbert Shenton
Passenger - Engineer Officer, (B.I.Co)
Died 20 December 1942 (St Helena)
Lewis Scaife
Passenger - Chief Engineer, M.N.
Died 19 November 1942 (ss BENDORAN)
Lawrence McGaffney
Passenger
Died 20 November 1942 (St Helena)
Sultan Khan
Second Baker
Died 7 February 1943 (St Helena)
Ranoo Panna
Topass
Died 20 November 1942 (St Helena)
SK Hassan SK Imam
Lascar
Died, Cape Town 9/4/1943 - Pulmonary TB
Additionally, two Lascar's who died on ss CLAN ALPINE were buried nameless in St Helena on 19 November 1942. Both will be among those Lascar deaths at sea named in page two
Europeans lost at sea in the lifeboats (28)
Sidney E.D.Britt
Chief Officer
Died at sea, 19 November 1942
Tom A.V Humphries
Second Radio Officer
Died at sea, 18 December 1942
William T. Pirrie
Third Engineer
Died at sea, 20 December 1942
David D. Noble
Fifth Engineer
Died at sea, 19 November 1942
Francis B. McQuone
Purser
Died at sea, 18 November 1942
Robert Ironside
Quartermaster
Died at sea, 19 November 1942
Albert R.C. Dobson
Quartermaster
Died at sea, 14 November 1942
Frank Stobbart
Engine Room Storeman
Died at sea, 19 November 1942
George E. Napier
Passenger - Chief Steward, (B.I.Co)
Died at sea, 14 November 1942
Ada Taggart
Stewardess
Died at sea, 17 November 1942
Annie Couch
Stewardess
Died at sea, 19 November 1942
Sydney H. Barnes
Steward
Died at sea, 14 November 1942
John Nuttal
Butcher
Died at sea, 14 November 1942
John Tagg
Passenger -
Died at sea, 12 December 1942
Capt. Thomas McCall
Passenger - Master Mariner, M.N.
Died at sea, 21 November 1942
Dr. Ronald Tasker
Passenger
Died at sea 12 November 1942
Robert Watts
Passenger
Died at sea, 19 November 1942
Basil Watkins-Ball
Passenger
Died at sea, 17 November 1942
John T. (Jack) Oakley
Passenger
Died at sea, 6 December 1942
Robert Little
Passenger
Died at sea, 6 December 1942
James (Joe) Green
Passenger
Died at sea, 18 November 1942
Marshall Crichton
Passenger
Died at sea, 20 November 1942
Harry Lane
Passenger
Died at sea between 14/11 and 12/12 1942
William McGregor
Third Engineer
Died at sea, 28 November 1942
Fred Powell
Passenger - Third Engineer, (B.I.Co)
Died at sea, 26 November 1942
William C. Soloman
Passenger
Died at sea, 4 December 1942
Kate Richardson
Passenger
Died at sea, 12 November 1942
Daniel McNeil
Passenger
Died at sea, 9 November 1942